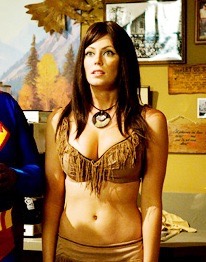 Nadine is one of the main characters featured in the 2009 horror comedy spoof Stan Helsing and the love interest of Stan Helsing.
She was played by actress Diora Baird.
Her Story
Edit
Nadine was a young woman who formerly dated a video store clerk named Stan Helsing. On Halloween night, Nadine dressed up as Pocahontas and met up with Stan, as well as his friend Teddy and a ditsy message therapist named Mia.
They were driving to a Halloween party when various inexplicable events turned their otherwise enjoyable evening into a nightmare.
This includes a frightful encounter with Chucky, the living doll, a car accident which results in the death of a dog and a serial killer hitchhiker.
As they continued on towards Stormy Night Estates, they stopped at a bar, which was populated by various familiar looking horror icons.
Nadine was forced to join the others in performing karaoke. Through the course of these events, Nadine discovered that Stan was a descendant of the infamous vampire hunter Abraham Van Helsing, and that it was his destiny to continue the family line of monster slaying.
Despite Stan's reluctance to get involved in any way whatsoever, he succeeded in driving all of the monsters away (who all turned out to be ghosts of residents of the estate who all died in a fire).
Upon driving home, Nadine discovered a new-found interest in Stan once again and passionately kissed him.
Ad blocker interference detected!
Wikia is a free-to-use site that makes money from advertising. We have a modified experience for viewers using ad blockers

Wikia is not accessible if you've made further modifications. Remove the custom ad blocker rule(s) and the page will load as expected.