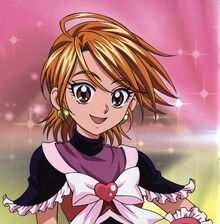 Misumi Nagisa (美墨 なぎさ Misumi Nagisa) (or Natalie Blackstone in the English dub), is one of the main characters in the series Futari wa Pretty Cure. Because of her role as narrator and the amount of attention she gets in the series, she is considered the main heroine. Her Pretty Cure ego is Cure Black (キュアブラック Kyua Burakku). Although she was previously almost unaware of her existence, Nagisa is possibly the love interest of Yukishiro Honoka, eventually became his best friends, because of their shared roles as Pretty Cure, admiring her for her intelligence, kindness, and understanding. She has a habit of saying "Arienai!" (ありえなーい!! Arienāi!!) when she is upset, which can be roughly translated to "Unbelievable!" or "I don't comprehend this!" and also "Lucky!" (ラッキー! Rakki!) whenever things go her way. Her catchphrase in the English dub is "Give me a break!".
At the beginning of the series, she had a crush on the Honaka's childhood friend, but it never ends to be resolved, besides the boy showed no signs of having much interest in she.
While not as explicit Nagisa has shown a possible romantic interest in Honoka, Although they did not know each other previously, Honoka soon became a good friend of Nagisa after the two of them became Pretty Cure together. At the end of the series, they remained best friends, and Nagisa cannot forgive anyone who hurts Honoka; this is sometimes seen when they are in their Cure forms, as Cure Black gains enormous powers whenever she sees or gets a hint that Cure White is hurt, The best proof of this is there in episode 42, where he understood that Nagisa and Honoka not can live without each other.
Ad blocker interference detected!
Wikia is a free-to-use site that makes money from advertising. We have a modified experience for viewers using ad blockers

Wikia is not accessible if you've made further modifications. Remove the custom ad blocker rule(s) and the page will load as expected.