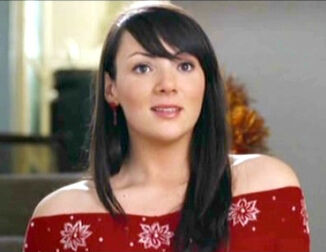 Natalie is the love interest to David in the British romantic comedy, Love Actually.
Biography
Edit
Natalie is a junior member of the prime ministerial staff. She's a sweet young woman, but has an unfortunate habit of swearing when she's nervous. When David is sworn in as Prime Minister, Natalie can barely keep her cool around him and makes an awkward first impression. David finds her somewhat endearing and they bond over time. When David realizes that their relationship is becoming unprofessional, he has her transferred. Afterwards, David finds a Christmas card that Natalie wrote for him confessing her true feelings.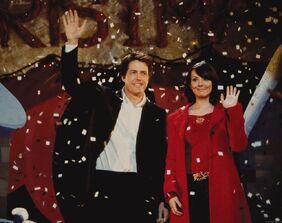 Realising that he'd fallen in love with her, David tracks Natalie down. He finds her just as her family are about to leave for a school performance. They drive to the school together, but since a family member is with them they have an awkward trip. When David and Natalie get to the school, they find a secluded place and kiss, only to realize that they were on the stage as the curtain is pulled away and a stage light shines on them. Instead of running, they wave to the audience, proudly displaying their love for each other.
Ad blocker interference detected!
Wikia is a free-to-use site that makes money from advertising. We have a modified experience for viewers using ad blockers

Wikia is not accessible if you've made further modifications. Remove the custom ad blocker rule(s) and the page will load as expected.