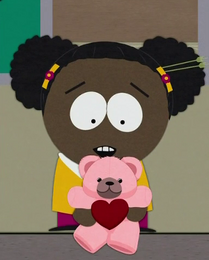 Nichole is the love interest of Token Black from South Park.  
Biography
Edit
She started out as the new girl at South Park Elementary.  At first, she begins showing interest for Kyle Broflovski, but she first meets Token when Cartman brings the two together.  The two formed a major relationship, but Nichole reads the engraving Cartman on one of the stuffed bears from Token.  Nichole breaks up with Token and she begins a relationship with Kyle.  During the game.  Cartman sings to Kyle because of his embarassment.  She then discovers that Kyle tells her that Cartman was the one that made her and Token be together.  She runs into Token at the game and reconcile their relationship, only to break up with him when the girls experience internet trolling.
Ad blocker interference detected!
Wikia is a free-to-use site that makes money from advertising. We have a modified experience for viewers using ad blockers

Wikia is not accessible if you've made further modifications. Remove the custom ad blocker rule(s) and the page will load as expected.