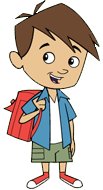 Noah Parker
is the love interest of
Atomic Betty/Betty Barrett
from the TV show,
Atomic Betty
.  He is also an honour-roll student who enjoys math and writing and is also Betty's best friend.  He has a crush on Betty, when he becomes jealous to the other girls.  He was kept in the dark about Betty's dual-role as a Galactic Guardian until the end of the first season.  He was also kidnapped by Pandora after he discovers Betty's dual role.  Betty attempts to rescue him.  He begs Betty on numerous occasions to go on her missions.  He also acts as a human guinea pig.  In the entire series, he is shown to have a crush on Betty.
Ad blocker interference detected!
Wikia is a free-to-use site that makes money from advertising. We have a modified experience for viewers using ad blockers

Wikia is not accessible if you've made further modifications. Remove the custom ad blocker rule(s) and the page will load as expected.