Oopsy Bear is a Care Bear who was first introduced as the title character of the 2007 computer-animated film Care Bears: Oopsy Does It!. He has since appeared alongside the other bears in the toyline, an is one of the main characters of the 2007-2008 television series Adventures in Care-a-Lot
In the movie Care Bears: Oopsy Does It! and Care Bears: To the Rescue he seems the love interest of Cheer Bear, but in the serie Care Bears: Adventures in Care-a-Lot seems rather a love interest of Share Bear, and in the final movie Care Bears: The Giving Festival seems to have rather a small crush in True Heart Bear.
Appearance
Edit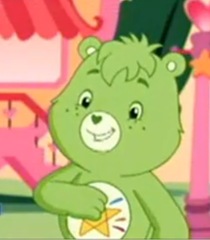 Unique among all Care Bears, he does not have his ownBelly badge and thus possesses no special powers of any kind, but he will often draw a yellow shooting star on his stomach with a marker. His fur is green.
Personality
Edit
Perpetually klutzy and accident-prone, this bear is constantly making mistakes, or "oopsies", which continually effect himself and others. Not only that, but he is the only bear in Care-a-Lot to lack a Belly Badge, meaning he has no extraordinary abilities to speak of. While at first it may seem like poor Oopsy is doomed to spend his life in second place, his true potential begins to shine through as he overcomes his own disabilities, often putting forth more effort and dedication into solving problems as they arise. In fact, his unique and practical approaches have saved the day multiple times, especially in situations when the other bear's powers have been nullified in some way. He is often seen palling around with his robot friend Wingnut.
Ad blocker interference detected!
Wikia is a free-to-use site that makes money from advertising. We have a modified experience for viewers using ad blockers

Wikia is not accessible if you've made further modifications. Remove the custom ad blocker rule(s) and the page will load as expected.