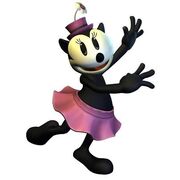 Ortensia is Oswald the Lucky Rabbit's girlfriend. She appeared in the Oswald shorts starting with The Banker's Daughter, replacing Oswald's former love interest, a much more feminine and sultry rabbit named Fanny in production materials. Ortensia's original name during the production of the Oswald shorts was Sadie (as referenced in the title of the animated short: Sagebrush Sadie). However, the names for Oswald's love interests were never widely publicized, which is likely the reason she was given a new name in Epic Mickey, following the alliteration pattern of Mickey and Minnie's mirrored relationship. As can be seen in her character design, she was very much a precursor to Minnie Mouse. Often in the original Oswald shorts, Oswald would compete with Pete for her affection. She also appeared in Oswald shorts produced by Charles Mintz and later Walter Lantz. In the Lantz shorts, she was called "Kitty". To add some confusion, copyright synopses of some Mintz and Lantz shorts erroneously refer to Ortensia/Kitty as Fanny. Since Fanny lost her hat in her first appearance and never found it Ortensia had her first appearance without a hat and was added it later in the cartoon Sky Scrappers.
As a side note, Ortensia is an Italian name that means "gardener", something that some of her art related to Epic Mickey shows to be a hobby of hers.
Ad blocker interference detected!
Wikia is a free-to-use site that makes money from advertising. We have a modified experience for viewers using ad blockers

Wikia is not accessible if you've made further modifications. Remove the custom ad blocker rule(s) and the page will load as expected.