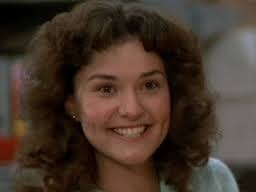 Pamela was the love interest of the serial killer, Billy Chapman in the 1984 horror film, Silent Night, Deadly Night.
Her story
Edit
She was first seen when she help a 18 years old, Billy who both work at Ira's Toy Store. Things go well until the Christmas decorations begin to appear, including images of Santa Claus.
Billy has a crush on co-worker Pamela and dreams of making love to her. But these dreams were always ended up with his own violent punishment by Santa.
At the store, an increasingly shaky Billy is forced to play the store's Santa Claus. He tells children who are misbehaving that he will punish them, terrifying them into submission.
After the staff's Christmas Eve party, Billy finds Pamela being raped by his fellow co-worker, Andy while she refuses.
Drunk and upset while angrily losing his temper, Billy has flashbacks to the night his parents were killed.
Soon, he becomes psychopathic, thinking that he can Punish the Naughty and he resolves to punish his co-worker, killing Andy by hanging him with Christmas lights while a terrified Pamela watches on.
Pamela tries to fight Billy, but Billy grabs a box cutter, and says to her, "Punishment is necessary, Pamela. It...is...good!", and cuts Pamela's stomach open with the box cutter, killing her.
Ad blocker interference detected!
Wikia is a free-to-use site that makes money from advertising. We have a modified experience for viewers using ad blockers

Wikia is not accessible if you've made further modifications. Remove the custom ad blocker rule(s) and the page will load as expected.