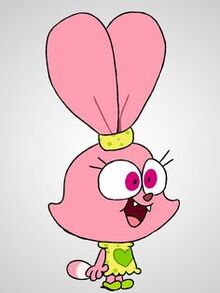 Panini is the love interest of titular protagonist from the cartoon called Chowder. She has a huge crush on Chowder. She first met Chowder after she was introduced Endive and Mung argue about what makes grabbles taste good. She shows an attraction towards Chowder and gives him a heart-shaped cookie and a juice box and tells him that they are boyfriend and girlfriend and Chowder becomes shocked. Chowder manages to shout out, "I'm Not Your Boyfriend!" along with fireworks. Panini begins to have romantic feelings for Chowder and loves it as she kisses him on the cheek. Chowder sometimes return his feelings to Panini and Panini says that she needs her space. Other episodes had Panini trying to get some food at the food stand to show her romantic feelings for Chowder before she realizes that she is banned from the stand. In the final episode, Chowder begins to have romantic feelings for Panini and Panini also tells her that they will be married in the future. In the end, she and Chowder are now married with 50 children and she and Chowder chase Scraps for stealing their children.
Ad blocker interference detected!
Wikia is a free-to-use site that makes money from advertising. We have a modified experience for viewers using ad blockers

Wikia is not accessible if you've made further modifications. Remove the custom ad blocker rule(s) and the page will load as expected.