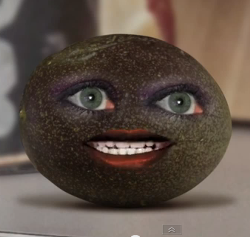 Passion Fruit
is the love interest of the
titular protagonist
in
the Annoying Orange web and TV series
. She is sometimes part of the main group. She is paired with the Annoying Orange and Pear sometimes. She is very smart and helpful. She is shown to have a crush on Orange in both series. She is voiced by IJustine.
It is unknown if "Fruit" is Passion's last name.
Her eyes are rounder in the TV series than they are in the web series.
She kissed Orange on the Cheek twice in the TV series. The 1st time was in "Food Carnival" and the second was in "Defending Your Fruit Cart" Part 2.
Grapefruit has eyes for her as well as Orange does.
Ad blocker interference detected!
Wikia is a free-to-use site that makes money from advertising. We have a modified experience for viewers using ad blockers

Wikia is not accessible if you've made further modifications. Remove the custom ad blocker rule(s) and the page will load as expected.