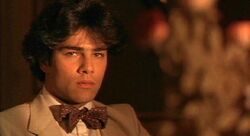 Pedro Muzquiz
is the love interest of Tita and later Rosaura from the book and movie,
Like Water for Chocolate
.  He is also Tita's neighbor.  Tita first met Pedro and begins falling in love with him.  However, Mama Elena refuses to let Tita fall in love with Pedro.  Pedro decided to marry Rosaura.  He and Rosaura were forced to leave San Antonio.  Tita begins a relationship with Dr. Brown inculding underlying feelings for Pedro.  She eventually loses her virginity to Pedro.  Mama Elena dies and Pedro becomes a drunk.  In the end at the wedding, Pedro proposes to Tita that he will not die without making Tita his wife.  Pedro dies before Tita kills herself by eating matches.  The Ranch has been destroyed.
Ad blocker interference detected!
Wikia is a free-to-use site that makes money from advertising. We have a modified experience for viewers using ad blockers

Wikia is not accessible if you've made further modifications. Remove the custom ad blocker rule(s) and the page will load as expected.