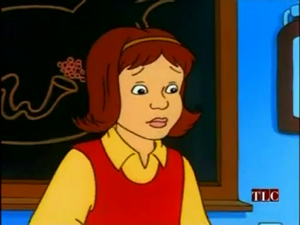 Phoebe Terese is the love interest of Arnold Perlstein from The Magic School Bus. She is also the new student in Ms. Frizzle's class and always compare how things were at her old school. She has been flirty with all four boys, including Arnold. Phoebe has a crush on Arnold. In the episode, "The Busasarus," it is hinted that she has a crush on Arnold and says, "Gee, what a guy!" She is usually paired with Arnold in various situations. She has feelings for Arnold and Arnold has feelings for her too. She is the caring soul of the class and she cares for Arnold sometimes. She is also shown to be friends with Wanda, Dorothy, and Keesha. She is shown to have a crush on Arnold throughout the series.
Ad blocker interference detected!
Wikia is a free-to-use site that makes money from advertising. We have a modified experience for viewers using ad blockers

Wikia is not accessible if you've made further modifications. Remove the custom ad blocker rule(s) and the page will load as expected.