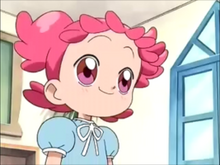 Pop Harukaze (春風ぽっぷ Harukaze Poppu) is Doremi's younger sister. She attends Sonatine Kindergarten for the first half of the series and then moves on to Misora First Elementary School in the later half. Pop accidentally discovers Doremi's magical powers in the first season and as such becomes a witch as well. She acts older than her age and is more responsible than her older sister. Her fairy is Fafa, who's shy and timid, but has a sisterly relationship with Dodo. Pop's theme color is red and her crystal is a red four-leaf clover. Her personal spell is "Pipito Purito Puritan Peperuto", while her spell in Magical stage is "Pipito Purito Hogaraka Ni". She is the love interest of Kimitaka.
Ad blocker interference detected!
Wikia is a free-to-use site that makes money from advertising. We have a modified experience for viewers using ad blockers

Wikia is not accessible if you've made further modifications. Remove the custom ad blocker rule(s) and the page will load as expected.