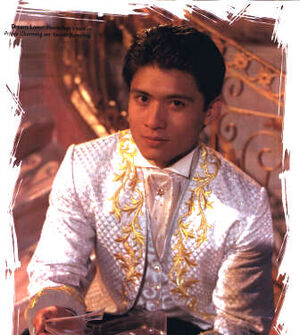 Prince Christopher is the love interest of Cinderella in Disney's 1997 (and the third) telefilm version of Rodger's and Hammerstein's musical of the latter character's same name. He is the son of King Maximilian and Queen Constantina. Christopher (who is rarely called by that name in the film) is played by then-newcomer Filipino-American actor Paolo Montalbán, who later reprised that role in one stage adaption.
Christopher disguises as a peasant while leaving the kingdom for a look around, where he meets Cinderella and finds out her name. When his parents' butler, Lionel, throws a ball the next night, in which all elligible women were invited (except that Cinderella wasn't allowed to go by her stepmother and stepsisters [named Calliope and Minerva in this version]), and doesn't fall in love with any of them (especially Minerva because of her scratching and Calliope for chortling [snorting while laughing])... that is until Cinderella (under a magic spell by her Fairy Godmother) arrives, but he doesn't know she and the peasant girl he met in in town are the same person. He dances with her, and as they are sharing their first kiss, Cinderella leaves (because she was supposed to leave before midnight), but Christopher tries to catch up with her. Nothing proves the girl she fell in love with was real but the one thing she left behind: one glass slipper. So, Christopher and Lionel check every woman's feet, especially Minerva and Calliope, neither of whose foot fits in it, and even the Stepmother, whose foot fits but isn't comfortable that way. Just as Christopher and Lionel give up, they see Cinderella about to leave home, but Christopher (finding out once again what her name is) stops and offers her to try it on. It fits, much to her stepmother's dismay, and that reveals that the peasant girl he met in town and the one he danced with are the same woman. After this, Christopher and Cinderella marry.
Ad blocker interference detected!
Wikia is a free-to-use site that makes money from advertising. We have a modified experience for viewers using ad blockers

Wikia is not accessible if you've made further modifications. Remove the custom ad blocker rule(s) and the page will load as expected.