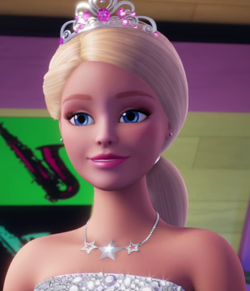 Princess Courtney Possible love interest of Marcus in Barbie: Rock N royals, she appear in the line of the royals ,but then the name of Erika Juno appear instead of her, and was mistakely on pop camp list, she never sing in a group only do what royal does, she had a step sister and maybe step mother same if she's not mentioned ,but her step sister yes.
She seem eating with the other campers of Camp Pop, but it seem that Marcus seem to fall in love with her, when he heard her song him the two other join her, but she was rejected by one of the girl from the camp. But at the end of the movie, she decided to help to keep both of the camps alive by singing with Erika, at the end both camp are togheter, and Courtney and Erika know if they came back they will be roommates for the next time they go in the camp.
Ad blocker interference detected!
Wikia is a free-to-use site that makes money from advertising. We have a modified experience for viewers using ad blockers

Wikia is not accessible if you've made further modifications. Remove the custom ad blocker rule(s) and the page will load as expected.