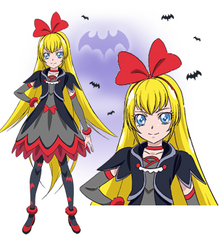 Regina (レジーナ Rejīna) is a character appearing in Doki Doki! Pretty Cure, is the love interest of Mana Aida (Cure Heart). She acts as the Selfish Trio's second in command. She is the Selfish King's daughter. It was revealed in Episode 45 that she is the darkness of Princess Marie Ange and the opposite side of Madoka Aguri who is Marie Ange's light. They are also revealed to be the same person and that the Selfish King is her father. Even though Regina is not an official cure, she seems to be part of the Doki Doki Pretty Cure team at the end of episode 49.
Ad blocker interference detected!
Wikia is a free-to-use site that makes money from advertising. We have a modified experience for viewers using ad blockers

Wikia is not accessible if you've made further modifications. Remove the custom ad blocker rule(s) and the page will load as expected.