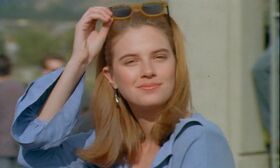 Robyn Sweeney is the love interest of Dave Morgan in the teen comedy Encino Man.
Biography
Edit
Robyn is one of the most popular girls in school. It's implied that she only recently grew into her looks. Despite the male attention she gets, Robyn still has confidence issues, having taken her driving exam several times because she can't get her parallel parking right.
Romances
Edit
Dave Morgan
Edit
Dave and Robyn have known each other since they were children. Dave never noticed her until she "hit babehood", at which point he was too late to be her boyfriend because Matt got to her first. Robyn still sees Dave as a friend despite his shallowness and awkward flirting. Dave seemingly gives up on her when she asks him if Link will go to the prom with her. When Robyn sees that Dave accepts her interest in Link, she begins to see that he does care about her and in the end kisses him.
Matt Wilson
Edit
Matt was the school's alpha male and a serial bully. Robyn never noticed that his mean side, but it's implied that she had Matt on thin ice and was looking for a reason to drop him. After Matt attacked Link, Robyn got tired of him and broke up with Matt on the spot, throwing away a ring he bought her that he obviously got out of a cereal box. Matt spends the rest of the movie trying to get back at Link and Dave for this.
Link was a caveman who thawed out in the present day and was introduced by Dave as an exchange student. Robyn took an interest in Link, but kept it to herself until she dumped Matt. When Dave asked Robyn to the prom, she declined and said she wanted to go with Link. Ultimately, nothing came of her relationship with Link as he was in love with his wife from prehistoric times.
Love Rivals
Edit
Betty Nuggs
Edit
Betty was Link's wife from 2 million years ago. Despite the female attention Link received, he wasn't interested in any of them and pined for Betty. Link went into a depression later on when he realised that Betty was most likely dead. After the prom, Link discovered that Dave's house had been broken into and everything was covered in mud and cave paintings. Link went into the bathroom and found that Betty had been frozen and thawed out the same as he had. They resume their relationship.
Ad blocker interference detected!
Wikia is a free-to-use site that makes money from advertising. We have a modified experience for viewers using ad blockers

Wikia is not accessible if you've made further modifications. Remove the custom ad blocker rule(s) and the page will load as expected.