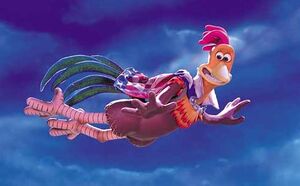 Rocky Rhodes is the deuteragonist and love interest of Ginger in the 2000 British Aardman Studios (distributed by Dreamworks in the US) film Chicken Run. He is the Rhode Island Red and an American rooster who can fly (and the only one with an American accent).
He is first seen while escaping from the circus and he first meets Ginger, but his left wing is injured and was taken to the chicken's hut to have his left wing fixed by Mac, the smartest member of the chickens.  He taught the chickens how to fly and do a little groove with a radio in the chicken's hut. He saved Ginger in the pie machine from Mr. and Mrs. Tweedy and he sadly left the Tweedy farm and decided to go back to the circus.
He eventually returns and joins Ginger, the rest of the chickens and the two rats to escape the Tweedy Farm and fleeing to paradise in an airplane.  By the end of the film, He and Ginger kissed and became an offical couple as they begin a new life in paradise.  Rocky's name is a pun on the ice cream flavor Rocky Road.
He is voiced by Mel Gibson.