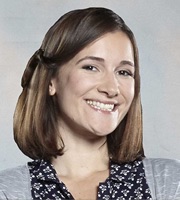 Rosie Gulliver (also known as Miss Gulliver) is the love interest and later girlfriend of Alfie Wickers in the 2012-2014 BBC Three comedy series Bad Education. She is the biology teacher at Abbey Grove High School and was Alfie's crush though throughout the series she only saw him as a friend and colleague due to her being torn years Alfie's senior. She had a brief lesbian relationship with one of her former pupils Alex and during her time at university, she had a relationship with her tutor Richard.

She eventually becomes Alfie's girlfriend and have since moved in together.
She is played by Sarah Solemani.
Ad blocker interference detected!
Wikia is a free-to-use site that makes money from advertising. We have a modified experience for viewers using ad blockers

Wikia is not accessible if you've made further modifications. Remove the custom ad blocker rule(s) and the page will load as expected.