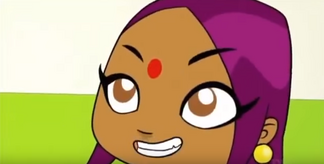 Sally Bollywood is a 12-year-old Indian girl detective, the title character and the main protagonist of the TV Show, Sally Bollywood: Super Detective. Sally is the possible love interest of her partner Doowee and Lee Wang. She investigates primarily by asking people questions. The series revolves around Sally, a young Indian girl who lives in the city of Cosmopolis. Her father, Harry, is a private detective, which has inspired Sally to start her own investigative service, S.B.I. (Sally Bollywood Investigations), located in the basement of their home. Sally and her best friend Doowee McAdam generally investigate cases brought to them by their schoolmates by travelling around their local neighborhood and using technology.
Appearance
Edit
Sally is a pale brown skinned girl with caramel brown colored eyes and a red bindi at the center of her forehead. She has long, flowing purple hair that she keeps out of her face. She wears a lilac top with an elephant image on it, and a lilac skirt with an orange cloth tied around the top matching her puffed pants worn underneath. which is her sari.
Her shoes consist of orange flats with lilac legwarmers. She wears gold dangle earrings and bracelets.
Personality
Edit
Sally is assertive, confident and a private detective like her father. To Sally, her father is the coolest guy on Earth, which is why she set up her own detective agency called S.B.I (Sally Bollywood Investigations) with her best friend Doowee. When Sally investigates, she's dynamic, resourceful and intelligent. She sometimes finds herself in a difficult situations, but that never stops her from trying and she ultimately lands on her feet. Sally's second passion is singing. And don't say that it's incompatible with a detective's profession: 'Pop Star' is the perfect disguise for working under cover! On her slumber party she invited Betty, Emma and Rebecca, what suggests they are her close friends.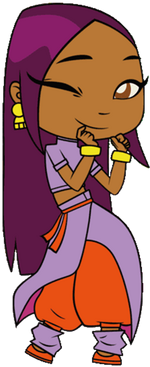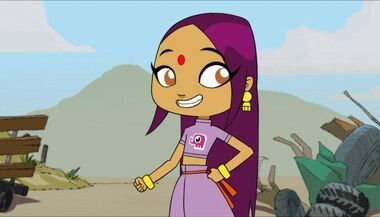 Ad blocker interference detected!
Wikia is a free-to-use site that makes money from advertising. We have a modified experience for viewers using ad blockers

Wikia is not accessible if you've made further modifications. Remove the custom ad blocker rule(s) and the page will load as expected.