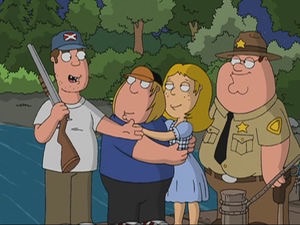 Sam is a young girl who lives in Bumblescum, Alabama who appeared in "To Love and Die in Dixie".
She was a love interest of Chris Griffin and She is voiced by Kathleen Wilhoite.
Her Story
Edit
She befriends Chris Griffin when the Griffin family move there as part of the Witness Protection Program. At first, Chris hung out with her and thought she was a boy, and was later very disturbed when she kissed him.
He was relieved to learn that she was a girl, so he could start a proper relationship with her. Chris has not seen her since they moved out of the South and returned to Quahog. He promised to write to her every day, and she promised to learn to read.
Ad blocker interference detected!
Wikia is a free-to-use site that makes money from advertising. We have a modified experience for viewers using ad blockers

Wikia is not accessible if you've made further modifications. Remove the custom ad blocker rule(s) and the page will load as expected.