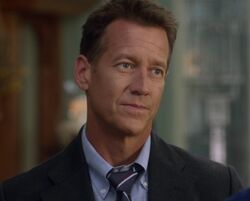 Sam Radford is the main male protagonist of the Hallmark Channel Original TV series, Good Witch. He is recently divorced and has left New York with his son Nick for a fresh start in Middleton when he becomes the town's new doctor. He is also the new main love interest and later fiancé of Cassie Nightingale.
Relationships
Edit
Cassie Nightingale
Edit
Cassie Nightingale is the main love interest of Sam Radford.
Stepahnie Borden
Edit
Stephanie Borden is Sam's former girlfriend who he dated for a majority of the first season.
Linda Wallace
Edit
Linda Wallace is Sam's ex-wife. While not much details regarding the past of their relationship is revealed, Sam and Linda fell in love and were married and later give birth to their son, Nick. However, they had an unstable marriage as they had constant arguments during Nick's childhood and both had different wishes and desires for their relationship and family. Eventually, Sam and Linda divorced after Sam discovered Linda cheated on him with her pilates instructor. Since then their relationship has been very strained and Sam was given sole custody of Nick as Linda focused more on her career than raising Nick. Due to their divorce it caused a serious impact towards Nick, causing him to become rebellious and act out on Sam.
Later sometime after Sam and Nick moved to Middleton, Linda decides to visit them and while she causes trouble in the beginning upon her return, she decides she wants to try and repair their damaged relationship. Linda decides to stay in Middleton to be closer to Nick, having a good and positive impact while she also intends to reconcile with Sam. However, Sam refuses to get back together with Linda, fully aware of her true nature and upon finally realizing and acknowledging his romantic feelings for Cassie. Linda refuses to back down to reconcile with Sam and soon becomes jealous of the growing romantic relationship between him and Cassie and begins to come between them.
Promotional Pictures
Edit
Ad blocker interference detected!
Wikia is a free-to-use site that makes money from advertising. We have a modified experience for viewers using ad blockers

Wikia is not accessible if you've made further modifications. Remove the custom ad blocker rule(s) and the page will load as expected.