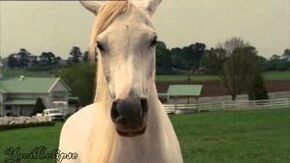 Sandy is a white Lippenzer mare and the love interest of Stripes in the film: Racing Stripes. She is voiced by Mandy Moore.
Her story
Edit
She is the only horse who supports Stripes' dream. Sir Trenton kidnaps her to ensure that Stripes doesn't race but Stripe's friends help Sandy escape and They help Stripes enter the tournament.
When Stirpes wins, Sandy congradulates him and poses for the photo.
*In an alternate ending of the film, Sandy and Stripes have a foal.
Ad blocker interference detected!
Wikia is a free-to-use site that makes money from advertising. We have a modified experience for viewers using ad blockers

Wikia is not accessible if you've made further modifications. Remove the custom ad blocker rule(s) and the page will load as expected.