Love Interest



Full Name

Sandy Olsson

Alias

Sandra Dee

Origin

Grease

Occupation

High School Student
Sandy Olsson
is the love interest of
Danny Zuko
from the 1978 musical film,
Grease
.  
She is played by Olivia Newton-John.  
Biography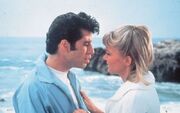 Sandy is first seen at the beach with Danny as they begin to fall in love. When Summer finally came to an end, Sandy goes back to Australia and frets that they will presumbly never see each other again. However, Danny tells her that their love is just the beginning.
Sandy decides to enroll at Rydell High School after her parents decided to stay in America. On the first day of school, she and Danny tell their friends about their romance along with the song, Summer Nights. Rizzo decides to have to two reunite, but Danny remains being a bad-boy in front of his friends, which makes Sandy really upset. Frenchy threw a pajama party for the girls and Sandy ends up being ill from trying a cigarette and drinking alcohol.
Danny eventually reunites with Sandy after he turns to Coach Calhoun to get into sports to become a runner. That night, at the school dance, Danny and Sandy come together during the school dance, but Danny and Cha-Cha perform together and win the dance-off, to which Danny tries to cheer Sandy up by taking her to a drive-in theater. However, Danny tries forcing himself on her and Sandy storms away.  After Danny wins a drag race, Sandy watches from afar and realizes that she still loves Danny. So Sandy decides to redesign her look and attitude to impress him.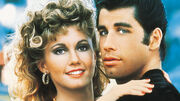 On the last day of school, while the class celebrate their graduation at the fair on the school grounds, Sandy appears with a new look and Danny is shocked to see her like this. The two finally admit that they love each other and reconcile along with the song,
You're the One That I Want
. By the end of the film, she and Danny leave in the Greased Lightning car as it takes flight and the couple wave goodbye to their friends along with the song,
We Go Together.
Trivia
Sandy's surname in the original stage version was Dumbrowski and she was American, but all this was changed to accomodate Olivia Newton-John's Australian heritage.
While Grease has stood the test of time, there has been criticism over Sandy's characterisation. Most notably, her caving in to peer pressure at the end of the film and forsaking her previous identity all for a boyfriend is portrayed as a good thing.
Ad blocker interference detected!
Wikia is a free-to-use site that makes money from advertising. We have a modified experience for viewers using ad blockers

Wikia is not accessible if you've made further modifications. Remove the custom ad blocker rule(s) and the page will load as expected.