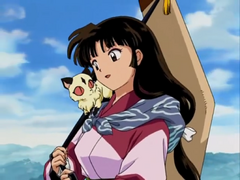 Sango is one of the main characters of the anime and manga series, Inuyasha. She is a Demon Slayer traveling together with Inuyasha and company to avenge the death of her family and village. She is also the main love interest of Miroku.
Sango is a demon slayer, aged sixteen, who hails from a village of professional demon slayers. Of her broad repertoire of tools and tricks for fighting demons, Sango's most powerful weapon is the Hiraikotsu, a massive boomerang made of purified demon bones. Her other weapons include a concealed sword and poisons. She is accompanied by the demon cat Kirara, who accompanies Sango into battle.
Relastionships
Edit
Sango is often the victim of Miroku's lecherous tendencies and gives him a loud slap for it, though she eventually falls in love with him. While she accepts Miroku's proposal of marriage, she requests that Miroku stop his lecherous actions and not to flirt either, a request he can't accomplish. At the end of the series after their arch enemy Naraku has been destroyed for good she marries Miroku and they have three children. 
External Links
Edit