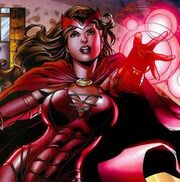 Scarlet Witch is the love interest of Vision from the Marvel Universe and is a member of the Avengers. She was originally part of the Brotherhood of Evil Mutants led by her father Magneto, until she and her brother Quicksilver left and joined the Avengers led by Captain America. She later becomes his wife.
Ad blocker interference detected!
Wikia is a free-to-use site that makes money from advertising. We have a modified experience for viewers using ad blockers

Wikia is not accessible if you've made further modifications. Remove the custom ad blocker rule(s) and the page will load as expected.