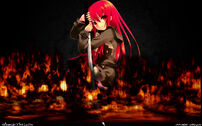 Shana is the love interest of Yuuji Sakai in the anime Gowsith Shana.
Shana is a Flame Haze. Initially she is concentrated solely on her duty as a Flame Haze, going as far as to not bearing even a name. She sees Yuji only as a Torch, an object, marginally interesting because of his status as a Mystes. Yuji, in his need to humanize her, chose to name her "Shana" after her katana. However, she slowly opens up to Yuji, coming to think of him as a person, despite being a Torch, and eventually comes to love him and finds a rival in Kazumi Yoshida.
Ad blocker interference detected!
Wikia is a free-to-use site that makes money from advertising. We have a modified experience for viewers using ad blockers

Wikia is not accessible if you've made further modifications. Remove the custom ad blocker rule(s) and the page will load as expected.