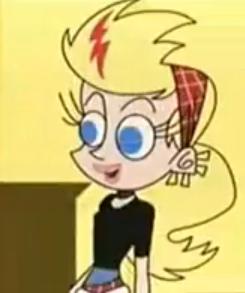 Sissy Blakely is the love interest of Johnny Test from the TV show, Johnny Test.  She is also Johnny's rival, similar to helga Pataki In one episode, Johnny pretends to be bullied as he and Sissy fall in love with each other.  In "The Good, the Bad & the Johnny", Johnny gives flowers to Sissy and Sissy kisses him on the cheek.  In the entire series, Sissy is shown to have a crush on Johnny. Also, in "Johnny's 100th Episode", Sissy admits that she thinks Johnny is cute when she is forced to kiss Johnny.
Ad blocker interference detected!
Wikia is a free-to-use site that makes money from advertising. We have a modified experience for viewers using ad blockers

Wikia is not accessible if you've made further modifications. Remove the custom ad blocker rule(s) and the page will load as expected.