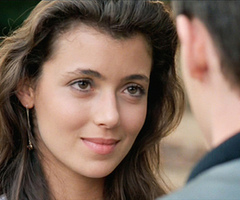 Sloane Peterson is a character from the 1986 comedy movie, Ferris Bueller's Day Off. She is Ferris's girlfriend. She is played by Mia Sara.
When Ferris decides to ditch school one day, with his friend Cameron, he decides to take his girlfriend Sloane along with him on their day in Chicago. The only problem is, she was still in school. Ferris therefore, calls the school, pretending to be her father, and requests to take her home for the day, giving the excuse that her grandmother died. Sloane is eventually let home for the day, and Ferris picks her up in Cameron's father's Ferrari, and, while the principal is watching and believes that Ferris is her father, kiss each other.
Ferris and Sloane spend the day together, along with Cameron. At the end of the day, Ferris takes her home, and they reflect on their day.
Ad blocker interference detected!
Wikia is a free-to-use site that makes money from advertising. We have a modified experience for viewers using ad blockers

Wikia is not accessible if you've made further modifications. Remove the custom ad blocker rule(s) and the page will load as expected.