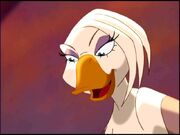 Stella is the love interest of Boris in Balto III: Wings of Change. Stella was voiced by Jean Smart.
Her story
Edit
She was a female Snow Goose who was migrating when she met Boris. She never knew Boris was afraid of heights (as he never told her) until she heard him talking to Balto about how he lied to her, much to her rage.
For this, she forced Boris into Duke's plane which later crashed with him in it.
After Stella, with Balto and the polar bears, sets off to find Boris, she confronts him for lying. Boris reveals his fear of heights and they reconcile with a moonlight swim.
Ad blocker interference detected!
Wikia is a free-to-use site that makes money from advertising. We have a modified experience for viewers using ad blockers

Wikia is not accessible if you've made further modifications. Remove the custom ad blocker rule(s) and the page will load as expected.