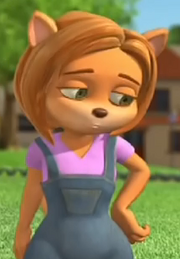 Stephanie is one of the main protagonists in Pat and Stanley. She is the very friendly popular and pretty orange wolf that both Pat and Stanley has a crush on. Her art classes are one of the neighbourhood highlights.
Appearances
Edit
Bath Time
Cyber Stuart (cameo)
A Button on the Nose
The Band Wagon
Sting Recall
Super Loser
True False Bobo
The Return of Stuart
Stephanie Love
Stuart Does Everything
Roll With It
Artists
Egg Surprise
Micro Stan
Bengal Hamster
Nasalation
A Short Break
Astro-Spountz
The Ghost of Aunt Patty
Grand Hotel
Ad blocker interference detected!
Wikia is a free-to-use site that makes money from advertising. We have a modified experience for viewers using ad blockers

Wikia is not accessible if you've made further modifications. Remove the custom ad blocker rule(s) and the page will load as expected.