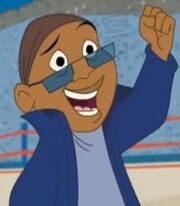 Sticky Webb (voiced by Orlando Brown) is one the main characters on the Disney Channel Original Series, The Proud Family and the love interest of Dijonay.
His story
Edit
He is one of Penny's best friends who acts like a cool dude even tough he is smart. In the first episode, he warns Penny about The Gross Sisters' plan of getting rid of LaCienega Boulevardez.
Throughout the whole, he is being annoyed by Dijonay Jones who has a mega crush on him. Penny's male friend and Dijonay's love interest, although he dislikes her rather strong come-ons.
Though he does have feelings for her, he only let those show once in one episode. He is very intelligent and knows a lot about computers.
Sticky's still upset because his parents got a divorce. He's also short and has a funny way of showing that he has a crush on Dijonay.
Sticky is very good at figuring things out, like puzzles and anything involving technology.
Ad blocker interference detected!
Wikia is a free-to-use site that makes money from advertising. We have a modified experience for viewers using ad blockers

Wikia is not accessible if you've made further modifications. Remove the custom ad blocker rule(s) and the page will load as expected.