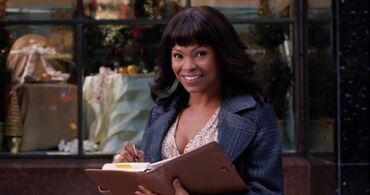 Suzanne Kingston is a divorced woman and single mother with Lindsey and Kevin Kingston include the twins from the Are We There Yet? films. She's the love inteest and later the wife of Nick Persons.
Her story
Edit
In Are We There Yet?, she once married to Frank Kingston until they got divorced before the event of the movie. She met Nick that night when he runs into her on his way home, asking for a jump start as her car had broken down. After suffering an electrocution, he agrees to take her home, and once there, agrees to transport her wherever she needs to go.
On New Year's Eve, he brings her to an airport to go to Vancouver for a business meeting. Suzanne's ex-husband calls to say he's sick and cannot bring the children to the airport. Suzanne has to put her trust in Nick to transport the children.
She wasn't seen until later where she witnessing the event, Suzanne believes trusting Nick was a mistake, so Nick travels to her hotel to bid her and the kids farewell.
After Suzanne witnesses how much Nick loves Kevin and Lindsey, Suzanne realizes that Nick is the one for her and kiss on New Years during the fireworks at Lindsey's suggestion.
So in Are We Done Yet?, they got married and moved to the country and have twins at the end of the movie.
Ad blocker interference detected!
Wikia is a free-to-use site that makes money from advertising. We have a modified experience for viewers using ad blockers

Wikia is not accessible if you've made further modifications. Remove the custom ad blocker rule(s) and the page will load as expected.