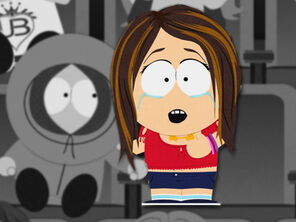 Tammy Warner
is
Kenny
's second girlfriend in
South Park
.
Biography
Edit
Tammy is a fifth-grader whose family is even poorer than Kenny's.
When Kenny started dating her, Butters told the other boys that she was a slut. When the sex-crazed Kenny found out, he was ecstatic. Tammy confessed that she did once perform a sex act on a boy before she met Kenny, but it was because she was aroused by the Jonas Brothers at the time. Kenny then get tickets to the next Jonas Brothers concert, hoping to get some action. To his dismay, a heavily-aroused Tammy is escorted backstage and taught about purity by the Jonas Brothers.
The next day, Kenny and Tammy have gone steady, but neither seems very happy about being in a chaste relationship. They start hanging out with other coupls and doing boring things that only couples would find entertaining. The boys get cncerned for Kenny's mental well-being and go after the Jonas Brothers. They find out that the purity fad is a scheme by Mickey Mouse to capitalise on conservative Christians. After Mickey Mouse is outed and the purity fad is destroyed, Tammy willingly performs a sex act on Kenny. Kenny dies of syphilis. 
Ad blocker interference detected!
Wikia is a free-to-use site that makes money from advertising. We have a modified experience for viewers using ad blockers

Wikia is not accessible if you've made further modifications. Remove the custom ad blocker rule(s) and the page will load as expected.