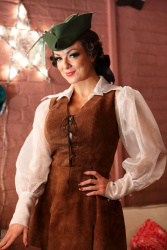 Tamsin Taylor is a character in the 2012 ITV Christmas special Panto!. She served as the love interest and girlfriend of Lewis Loud.
Tamsin is a soap actress known for playing a character called Mad Mindy The Axe Murderer. She along with Lewis, prepares to take part in The Grand Theatre's Christmas pantomime Dick Whittington with Tamsin play Dick and Lewis playing Jack the Lad.
However, at the dress rehearsal, Tamsin quits the pantomime in order to take part in a reality show set in the North Pole and invites Lewis to join her. He considers it at first, but later turns it down and instead decides to remain in the pantomime and be a father for his son Paul (who had been left in his care by his ex-wife Gina who was going on holiday with her new partner). Dejected, Tamsin leaves alone.
She is portrayed by Sheridan Smith.
Ad blocker interference detected!
Wikia is a free-to-use site that makes money from advertising. We have a modified experience for viewers using ad blockers

Wikia is not accessible if you've made further modifications. Remove the custom ad blocker rule(s) and the page will load as expected.