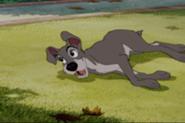 The Tramp is the deuteragonist from Walt Disney's 15th animated 1955 classic, Lady and the Tramp. He is the love interest and later husband of Lady the cocker spaniel. He first meets Lady while he was a friendly stray dog who dreams to live in the family and home. He and Lady fell in love together. Later on, he was about to be caught by a dog catcher but he escaped and injured his leg. By the end of the film. He becomes one of Jim Dear's dogs and has four puppies with Lady: a son named Scamp and three daughters Annette, Danielle, and Colette. He is voiced by the late Larry Roberts in the original film and later Jeff Bennett in the sequel.
Ad blocker interference detected!
Wikia is a free-to-use site that makes money from advertising. We have a modified experience for viewers using ad blockers

Wikia is not accessible if you've made further modifications. Remove the custom ad blocker rule(s) and the page will load as expected.