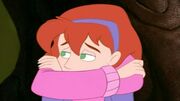 Thumbelina is the love interest of Tom Thumb from the 2002 direct to video movie, The Adventures of Tom Thumb and Thumbelina. She first met Tom when she was a former circus performer. She was imprisoned by the Mole King to make her his bride. Tom rescues her. By the end of the film, she and Tom got married. She is voiced by Jennifer Love Hewitt.
Ad blocker interference detected!
Wikia is a free-to-use site that makes money from advertising. We have a modified experience for viewers using ad blockers

Wikia is not accessible if you've made further modifications. Remove the custom ad blocker rule(s) and the page will load as expected.