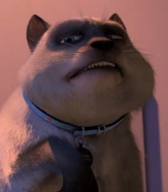 Tiger is the love interest of Stella from Over the Hedge.  He was originally the owner of Gladys Sharp.  He first met Stella while Stella was helping RJ to gather all the food to give back to Vincent, the mean bear.  Later on, after Gladys and Dwayne LaFontant were finally arrested for the use of illegal traps and Vincent taken to Animal Control, Tiger falls in love with Stella and begins to live through the hedge.  He is voiced by Omid Djalili.
Ad blocker interference detected!
Wikia is a free-to-use site that makes money from advertising. We have a modified experience for viewers using ad blockers

Wikia is not accessible if you've made further modifications. Remove the custom ad blocker rule(s) and the page will load as expected.