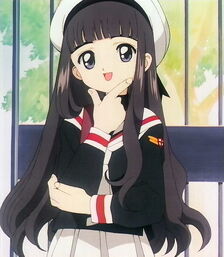 Tomoyo Daidouji (大道寺 知世 Daidōji Tomoyo?) is a fictional, major supporting character in Clamp's anime and manga series Cardcaptor Sakura and Tsubasa: Reservoir Chronicle. She is the best friend of the series' protagonist, Sakura Kinomoto, and her second cousin on their mothers' side. It has also shown to have feelings for Sakura, but because they knew that Sakura was in love with Yukito (and after Syaoran) decides to leave to be happy with the person you love.
Ad blocker interference detected!
Wikia is a free-to-use site that makes money from advertising. We have a modified experience for viewers using ad blockers

Wikia is not accessible if you've made further modifications. Remove the custom ad blocker rule(s) and the page will load as expected.