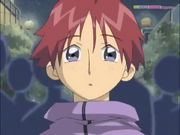 A unnamed boy
is a minor character of
Ojamajo Doremi,
which makes a single appearance throughout the anime, he is the possible the love interest of
Hana
.
He meets Hana at a festival, when she left the group, he decides to help her and takes her hand to avoid getting lost in the crowd. They go together several positions and have so much fun festival, but that once they find Doremi and the others, he will have to go, because of this when listening to Hana Doremi and other joining decides to escape with the boy, while chasing her sandal breaks but manages to catch inpidiendo to fall, causing a slight blush in Hana, to prevent the trap climb up a fire escape, where the boy fixes his sandal and watch the fireworks together. When they return to Hana festival returns with the group and the boy disappears, Hana wonders what could have happened with algra but to have known him and thanks him.
Ad blocker interference detected!
Wikia is a free-to-use site that makes money from advertising. We have a modified experience for viewers using ad blockers

Wikia is not accessible if you've made further modifications. Remove the custom ad blocker rule(s) and the page will load as expected.