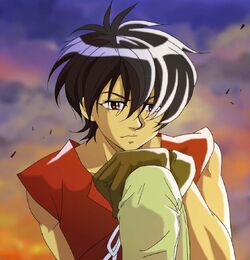 Van Fanel 
is the primary love interest of Hitomi Kanzaki in the anime series 
The Vision of Escaflowne
.
Van is the young half-Draconian king of Fanelia who must learn to cope with drastic changes in his life after Fanelia is destroyed by Zaibach. He pilots Escaflowne, a Guymelef made by the mysterious Ispano tribe which can transform into a flying dragon. He earns his right to pilot Escaflowne through a blood pact which connects his body and soul to Escaflowne. Due to the blood pact and Hitomi's influence, Van becomes injured when the Escaflowne is damaged, and these wounds will not close until Escaflowne is repaired. Consequently, if Escaflowne is destroyed, Van will die.
At the end, Hitomi goes back to Earth and Van stays in Gaea.
Ad blocker interference detected!
Wikia is a free-to-use site that makes money from advertising. We have a modified experience for viewers using ad blockers

Wikia is not accessible if you've made further modifications. Remove the custom ad blocker rule(s) and the page will load as expected.