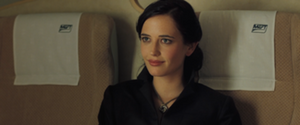 Vesper Lynd is the love interest of James Bond from the James Bond film, Casino Royale.  She first meets James Bond while on a train trip to Montenegro.  The two quip each other and he establishes that she was orphan who worked her way up to become a liaison from Her Majesty's Treasury to monitor MI6's finances in the high-stakes poker game at the Casino Royale.  Bond used her beauty during the game to distract the other players.  She aided Bond in killing Obanno and suffered a breakdown in the shower and Bond consoled her and the two became lovers.  She refused to give Bond another $5 million to buy back in, citing his recklessness.  After Bond won the poker game, Vesper was kidnapped by Le Chiffre, luring Bond to also get captured as well.  The two were freed by Mr. White.  Unknown to Bond, he captured Vesper by kidnapping her boyfriend.  While on a vacation in Venice, she drowned during a shootout between Bond and Mr. White's henchmen over the poker game winnings.  Bond retrieved her body and pursued Mr. White and found a not from Vesper on her cellphone.
Ad blocker interference detected!
Wikia is a free-to-use site that makes money from advertising. We have a modified experience for viewers using ad blockers

Wikia is not accessible if you've made further modifications. Remove the custom ad blocker rule(s) and the page will load as expected.