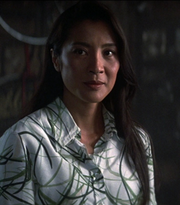 Wai Lin is the love interest of James Bond from the James Bond film, Tomorrow Never Dies.  She is a spy for the Chinese People's External Security Force in the rank of colonel and skilled in martial arts.  She first meets Bond when she is sent as a Xinhua News Agency reporter to find evidence of the disappearance of stealth material from a People's Liberation Army base that is connected to the villainious Elliot Carver.  Wai Lin later discovers that Bond was sent by MI6 to work on the same case.  The two then realize that they have been ordered to kill each other, but the two begin a relationship, when they are captured by General Chang.  Bond begins to respect her, but Wai rejects his attempts at seduction, which brings them both aboard his private ship and will control the world's media after getting exclusive coverage rights to the impending war, in which that it will begin when the ship launches missiles at a British craft.  Wai eventually breaks free and begins to create a distraction to let Bond disable the missiles, kill Paris Carver, and flee with Wai as the ship self-destructs. She and Bond fell in love together while fighting during their mission and became lovers at the end of the film.
Ad blocker interference detected!
Wikia is a free-to-use site that makes money from advertising. We have a modified experience for viewers using ad blockers

Wikia is not accessible if you've made further modifications. Remove the custom ad blocker rule(s) and the page will load as expected.