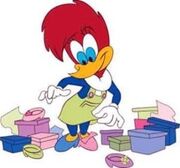 Winnie Woodpecker is the girlfriend of Woody Woodpecker from the Woody Woodpecker series.
Winnie first appeared in a Walter Lantz short, Real Gone Woody. In that short Winnie had a date with Woody but Buzz Buzzard stopped Woody because he wanted to date with Winnie. She also appeared in International Woodpecker as the caveman woodpecker's girlfriend and as Fifi from Paris.
The New Woody Woodpecker Show years
Edit
Winnie later appeared in The New Woody Woodpecker Show among with Woody, Chilly Willy, Splinter and Knothead, Wally Walrus, Ms. Meany and Buzz Buzzard. Winnie Woodpecker maked part in her own segment (like Woody, Chilly Willy and Splinter & Knothead). She changed his design.