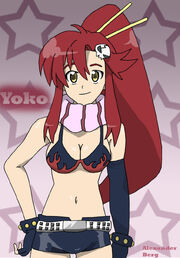 Yoko Littner is the love interest of Kamina, Kittan and (formerly) Simon in the manga and anime Tengen Toppa Gurren Lagann.
Yoko is a young woman from the village of Littner. In Episode 1 a Gunmen crashes through the roof of Giha village and prepares to attack the populace when Yoko, who has been tracking the Gunmen, rappels down a cliff whilst firing her electromagnetic rifle. Her solo attack disables the Gunmen, giving Kamina and the villagers time to seek safety.
She decides to accompany Simon and Kamina on their quest. Despite their constant banter Yoko soon becomes infatuated with Kamina. She is also the object of Simon's naive crush until he discovers the two kissing.
In Episode 8, Kamina dies, leaving Yoko heartbroken.
Later in the series, Kittan becomes interested in her, but dies in order to save everyone before they can explore a relationship, not before he kisses her goodbye.
Ad blocker interference detected!
Wikia is a free-to-use site that makes money from advertising. We have a modified experience for viewers using ad blockers

Wikia is not accessible if you've made further modifications. Remove the custom ad blocker rule(s) and the page will load as expected.