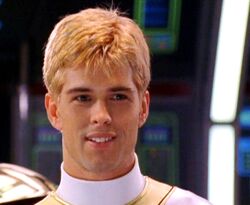 Zhane is Astronema/Karone's love interest in Power Rangers in Space. However, he first spends time with Ashley, which made Andros jealous, but Zhane convinced him that they were just friends, so Andros was able to ask her out on a date. When he met Astronema she was in distress and he came to save her. He falls in love with her, they picnicked together but Andros came and revealed Zhane true identity. That made Astronema angry. After they return on Kao-35 they were in a couple with Karone who was the ex Astronema. Later him Karone and Andros decide to follow the rangers on earth
Ad blocker interference detected!
Wikia is a free-to-use site that makes money from advertising. We have a modified experience for viewers using ad blockers

Wikia is not accessible if you've made further modifications. Remove the custom ad blocker rule(s) and the page will load as expected.